Intranets and Extranets What are They?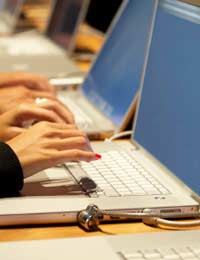 Most of us have heard of the Internet, but it is likely that a great number of web surfers out there have not yet heard of the term intranet and extranet. Unless you work in a Corporation or organisation that uses these technologies it is unlikely that you will know what they mean.
Basically, an "intranet" is a private version of the internet and it is usually only applicable to a company or organisation where it is accessed. For example, colleges and schools usually have their own Web page portals.
These portals are usually on the homepage when a student logs-on to the computer system at college or at school. Although the homepage of a student portal can often be accessed via the Internet i.e. in our own homes it is usually only available to college users within the boundaries of the college network.
Intranets Are Private Internets!
An intranet is basically a private Internet which only resides on college or school servers as in this example. However it is not just educational organisations which use intranets, they are widely used throughout industry for the employees of banks, councils, private companies and a great number of of organisations. In an intranet the web pages and all of the technology are located on the organisations network and are not accessible via the outside world.
The advantages of intranets are that they can be used to share documents across employees or students. For example a piece of lessons could be kept on the Internet students to download any time they wished. Employees can download reports as and when they require them.
A common use of intranets is to make announcements to employees and to provide the latest share price of their company for all employees to see. Local company or organisation news is also published on a local intranet.
Extranet
Like intranets "extranets" are private networks contained in a corporate or organisational setting. However, extranets make more use of the Internet to guide their technology. It can be thought of as a number of private networks intranet communicating with each other like a business process. For example a company may use and extranet to have a direct link to its suppliers or customers. When you order online this is sometimes a way in to accompany extranet. The order may go direct to the warehouse of the company you are ordering from.
Although extranets can operate in this way for the consumer they are usually business to business (B2B) networks. Extranets make use of both public and private networks and technologies. Like intranets, extranets are only private to the company's who are part of a pre-approved set of business organisations, and therefore members of the general public are not usually allowed access unless it is in the case described were information is sent direct to a part of the organisation.
Google's Private Network
In the future, (and to confuse the issue further) there may well be a new term being created for a new type of private Internet. The reason for this is that Google are rumoured to be starting their own private Internet network at some point in the future. This will neither be an extranet or an intranet as it will be a localised internet (available to everyone) and so it will probably be a "Googlenet"!
You might also like...