Letters v Emails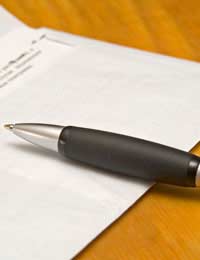 It is surprising but a great deal of us still don't use the Internet in the UK. As a result those of us who don't use the Internet must use "good old pen and paper" when communicating with someone in writing. It could be assumed that the people in this category are older and some would say wiser. However this is not necessarily true either as a great number of old age pensioners now have computers or laptops, and the trends show that this is on the increase.
Email Only Communication Is Not Here Yet.
We have not reached the stage yet where everyone has a computer and everyone uses e-mail as their main method of communication. Hence the reason why the majority of our bills and official documents on paper.
Another reason is that official documents usually require a signature writing in pen, although signatures can now be simulated on on a computer. A signature on a computer can be achieved by either scanning your written signature into an image or simply typing your name into an official document, where it is then taken as your official signature.
Those of us who use e-mail on a regular basis would probably prefer all our documents to be sent and received by e-mail, thus saving paper and opening countless envelopes. This would also avoid letters becoming lost in the post or not being delivered. There is also the speed factor. For instance it takes literally minutes to write and send an e-mail on the computer but it can take three times longer to write in pen and three times as long to deliver a standard letter, especially at peak times such as Christmas when Christmas cards and gifts are all being delivered in the postal network.
Watch Out For The Junk!
Unfortunately, or fortunately depending on your point of view completely automated billing via e-mail and other computerised methods seems to be some years off. Although some companies allow you to use the e-document option so you only receive documents online into your online account. Online banks frequently provide this service.
The problem with e-mail though is that just like junk letters in your post box you will also get junk in what is known as spam in your e-mail inbox. Unlike standard post you are much more likely to receive hundreds if not thousands of junk emails! To counter this most e-mail systems have what is known as a junk filter. With normal post you just screw it up and put it in the bin!
Another advantage of e-mail over standard post is that you can send messages to several people at once, in fact hundreds if you so wish. This is the same as the old "carbon copy" or CC when you write letter.
Check What You Are Sending!
So e-mail is faster and more convenient than standard post but what about the downside of e-mail. Well if you have ever clicked "send" to several people when you really didn't mean to this is a typical example of the e-mail going wrong. You then desperately try to recall the message and fail miserably. At that point you receive angry, amused or confused replies to your inbox.If you work in an office you are then asked to explain yourself. Most people in their career using computers have "achieved" this at some point or another. This can't be done by standard post as easy, but then with standard post you don't just click "send".
Another problem with e-mail is that you can receive viruses and spyware onto your computer so you must always protected it with spyware and antivirus software. In postal terms this is the equivalent of someone placing a malicious item in the envelope with the letter they send.
Another factor about e-mail is that it takes time to learn it, especially if you are not very computer savvy; however, e-mail saves time and is more considerable and convenient as supposed to using standard post.
Standard letters are gradually on their way out. It is probably going to be another 20 years before we see their demise completely, and this may never happen for various legal reasons in any case.
You might also like...