All About Second Life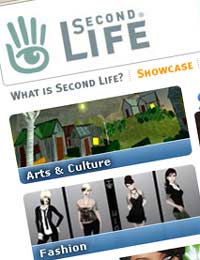 Sometimes it's good to get away from the hassles and problems of everyday living, without necessarily going on holiday or even leaving your armchair.Well now you can. Second Life, developed by Linden Research Inc and released on June 23 2003 gives you an opportunity to do exactly that.There are two versions. One is for over eighteens and the other version is for ages 13 to 18.
Second Life allows you to explore new virtual worlds as a virtual person. Users are called "Residents", the buildings and the scenery look similar to real world cities and buildings and objects can be created by users. In order to facilitate this, the game provides tools to create simple 3D objects. More advanced objects can be created via third party software, such as Blender, Poser or Adobe Photoshop. If you create a complicated 3D object it is called a "sculptie". Objects can have a behaviour associated to them, such as movements or colour change etc, this is achievable via the "Linden Scripting Language" provided as part of the toolset included with Second Life. Individual content can be copyrighted, this can then be either given away or sold. The terms of service allow for individual recognition of unique content in this way.
Second Life is Free!
A great aspect of Second Life is that it is freely available. However, this is a cunning enticement on the part of the program makers, who have both free and paid versions available. Of course, the paid version (approx $3 per month) has more features and provides each subscriber with more Linden Dollars (L$) to spend in the game.
The Linden Dollar is the "national" currency of Second Life. This can be used to buy land, items or services. Like real life, users can offer services and products within a social network setting. These are exchanged for Linden cash, Linden Dollars can be exchanged with other users for real dollars. For instance, a user could sell L$5000 for $10 and It is rumoured that some players even make their living from the game. Some users specialize in creating custom content for other users and charging for it.
Virtual (paid) services include working in stores, holidays, business management, entertainment (including adult entertainment), personal services and a proliferation of products. Nothing can be ruled out and In this regard it is similar to the real world, although the virtual environment will inevitably lead to unusual products and services being offered, which are unobtainable in real life.
As for the world itself, it comprises areas of land called Regions or Sims (Simulators). Each region is represented in the virtual world by single server, each area even has its own content rating. Adult or mature content would be rated as PG or mature. Each area measures 256x256m.
The most highly valued commodity is land as It is scarce and difficult to obtain. Residents can buy, sell, and rent areas from each other and there are a small number of residents making large sums of money doing exactly that. This is similar to "real world" property and land dealing. It is probably easier to make money this way than it is in real world property dealing!
Criminals Can Infiltrate It
In recent years, it has been the subject of investigation by real law enforcement agencies. Some even pose as residents to carry out their investigations. This happens when the network is abused by people who have less than honourable intentions in their dealings and the illegal interactions usually involve young people. Problems occur when users take their virtual activities into real life however there are no rules enforcing who is allowed to play and who is not. This is one area where the Second Life has been criticized.
What is an "Avatar"?
Over the last decade, new terms have been coming into play as a result of the Internet and the latest buzzard is "Avatar" which basically means a representation of himself/herself or alter ego. This word came about when computerised virtual words became established. Therefore all characters in Second Life are known as Avatars and just like humans an Avatar can walk, run, jump and ride in vehicles. That's where the similarity ends as Avatars can also fly unaided and teleport to other locations.
Unlike other games of it's era, Second Life offers a variety of purposes. You can simply play for fun, escape reality by visiting virtual worlds, or make a real (or imagined) living in virtual space. It allows you to become somebody else, or someone you would like to be and it's a great place to make friends too. The bottom line is that it is an advanced social network service, combined with virtual behaviour.
You might also like...