Online Virtual Racing and Gambling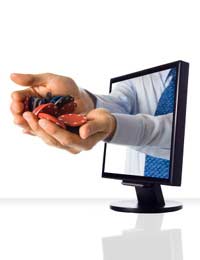 What is virtual racing? That's a simple enough question, and we can tell you is that it is not a children's game, in fact it's not for kids at all. If you love horse racing and having a flutter, then don't bother to visit Epsom, Catterick, York or any other race course for that matter. You can do it all online in a virtual setting and save yourself the bother and the expense of visiting a real race course.
A Virtual Racing Day Out
Virtual racing has been around on the Internet for some time and can also be found on certain TV channels. In their wisdom, the gambling companies have left no stone unturned in order to provide you with as many ways as possible for you to part with your hard cash. Of course there is no virtual coach or train journey to the event, and there is no virtual beer to drink. However, you can console yourself with walking to the fridge and grabbing a can of beer (or wine if you prefer), and sitting at your PC and await the next virtual race. Not as much fun as a real horse racing event perhaps, and the horses and riders do move in a funny way, but it provides the keen horse racing enthusiast with another outlet, be it day or night to indulge and dabble.
Buy Your Own Racehorse! (a virtual one, that is)
There is another aspect to this though which provides another channel of interest. If you have ever fancied buying your own racehorse, but didn't have £50,000 or more to invest, then you should consider buying your own virtual version, for about £2.50 and you can buy as many as you wish. These still need training, feeding and keeping in trim. If you are familiar with the concept of virtual pets you will understand the idea. You then get to name, and enter your horses in the races you wish.
Virtual horse racing even offers events named after real horse racing events, such as the Derby, Oaks, Queen Elizabeth, King George classics etc. Virtual horse racing has taken the simulations to a new level, as there are also race clubs. In virtual racing you can play for free or play for money and as an added bonus, you can also bet on virtual greyhounds. Both online virtual horse racing and virtual greyhound services try as much as possible to simulate real life events.
Of course, when you log in to one of the virtual racing sites, that isn't all you will be presented with. There will be online casinos, fruit machines and virtual cards to provide a whole gaming experience. Online gaming has increased exponentially over the last few years, along with lots of other things in the world of the Internet. A great deal of this 'virtual gambling' is related to the real world. For instance, when you place a bet on a real football match online, there is a good chance the web site you are on has included virtual racing and casinos. They make it possible for you to bet on both real and non-real events.
Online Gambling Laws
Some may be sceptical as to the fairness of the virtual offerings, given that ultimately, the "virtual" games are driven by programs which potentially, could be manipulated. However, the games are regulated so that results are as "truly random" as should be expected. Before a program is released to the wider world it must conform to certain standards so that it is legally providing a "fair betting experience". In the case of virtual horse racing, shorter odds for a specific choice indicate that the horse has a better chance of winning in the random world, but it is no guarantee of success.
Online gambling, like real world can take many forms such as online casinos, cards, bingo, and poker. There are always opportunities to have a flutter. The problem is some people go too far, having another go, and "just another go", encouraged by the odd "win". This "addiction" is problematic for some people, who just can't resist and by the time they have finished playing their bank accounts are substantially lighter. Some sites try and warn the users about the dangers, but quite a few don't bother as they are making lots of money. There are real dangers to the odd online "flutter", and perhaps it's just too easy and convenient. It can be fun if you play just for fun on the free games but a lot of us simply don't.
There is No Such Thing as a Poor Bookmaker!
By all means have the odd "flutter" now and again if you must gamble as we don't want to be a killjoy. However, just to show you who wins in the end, try viewing even a small bookmaker's house to see how grand it is, or look up the company profits of large gambling companies. They are making a tidy profit aren't they? Online gambling has just made the temptation easier, that's all.
You might also like...