Online Business Networking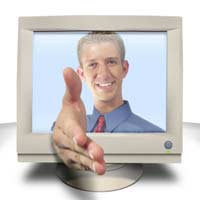 Many businesses have a presence on the web these days, probably out of necessity as without this a business is simply not as competitive. This includes both real world and Internet business. The secret to a successful online business is in how well they perform their "networking."
We mean this in both the practical technical case and also in the context of gaining customers where "networking" refers to the marketing concepts employed to gain more business. Lets deal with the practical aspects of the word in terms of what it takes physically to get a new business online.
Step 1: Obtain A Web Server
The first item on the shopping list to get online is a web server. This may be owned by the owner of the website or it may be rented from a service provider. There are some good deals on offer when it comes to hosting and basically the best thing to do if looking for an external provider is to shop around.
As a general rule the hosting providers base their costs on how much traffic you expect for your website (called the download allowance) and how much disk space you require for your website. In both cases this is usually measured in gigabytes.
The cost increases as you subscribe to more network traffic and increased disk space. Some providers have separate tariffs for business and personal use. The alternative is to host the web server but as it has to be online all the time and needs expert maintenance. This option is only recommended for website experts or business's who have the technical know how available when required.
Step 2: Obtain A Domain Name
The next stage in the process is to set up a website, but before you even set up a website you will need a domain name. A domain name is the name typed in the address bar when someone tries to find a website, such as www.website.co.uk. The domain is hosted on the web server of your choice, and although you can obtain a domain independently of your hosting provider you can usually obtain one through them.
When choosing your domain name it is advised that you try to choose a name which makes sense in the english language. Although there are thousands of websites with unusual domain names your potential visitors would find it easier to remember www.technologybasics.co.uk for instance, than they would www.zetrazim.com (a non existent website at present). Another, very valid reason for including proper words in the domain name is the search engine considers the name in its indexing method, and "proper words" in the name are given a higher priority. This is all very well, but there is the other problem of a domain name being available in the first place. With billions of domains out there it is difficult to find a name which is both meaning and is available.
Step 3: Build Your Website
So, how do you set up your website? Depending on the type of website you are seeking you may or may need the services of a professional website designer, although an alternative is to purchase "ready made" software tools allowing you to set up a simple website in a relatively short time. This is particularly true in the case of shopping cart sites and blogging type sites where software is easily available online, for free or to purchase.
Once you have your website, in whatever form you have obtained it (via purchase or otherwise) all you would need to do then is to upload it to your web host. You then set it up with products or start adding your information. Once the site is live the next stage is to get it noticed.
Step 4: Optimise Your Website And Get It Noticed.
There are billions of websites so what do you need to do in order to get your site noticed? You need SEO (Search Engine Optimisation). This is the specific methods and techniques used to push your site up the search engine rankings, so that it appears as high as possible in the list of websites searched for. This includes placing good keywords in your meta-keywords list, in the title of your website and within the content of your website. SEO is a subject in its own right, so it is worth learning as a part of your website marketing strategy.
Step 5: Market It!
Once you have your website up and running and are using appropriate SEO techniques you need to market your site out there in magazines, newspapers, shop windows, wherever. This is the other "networking" we intended which is another aspect of launching a new online business.
You might also like...