All About Online TV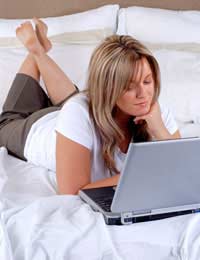 Online TV is one of the very latest offerings in the Internet world. Companies such as BT are even advertising their broadband packages and special "TV boxes" offering a proliferation of programmes from all over the world, on a pay-as-you-go basis.
Online viewing is not new by any means, as it has been around for some time in one form or another. The latest version involves having a programmable box with its own remote control. As the advertisement illustrates, the number of unusual and unheard of programmes is increasing. Programs like "This is England" and "Cloverfield" illustrate the variety of entertainment and informative channels on offer. The latest technology uses the best of both worlds, in that it uses the Freeview airspace and other channels are available via a Broadband connection.
Online TV Has Been Around For Some Time
In the past "Online TV" was predominantly the domain of providers of music software, who eventually included live television via streaming software. Some of these channels were not live and just shown as video recordings, and some of them were shown live as and when they appeared. For example, free "Winamp" software and other downloads offer free radio and live online television from all over the world.
Another common method to watch live TV online is via the Sky Sports website. Online television can also be watched on mobile phones that support streaming video. These days mobile phones have increased in sophistication to offer live TV on the move. A few years ago you could buy a tiny TV of about 4 inches screen width to watch television on the move. These were much bigger than their mobile phone counterparts. These days, mobile phones offer not only digital TV viewable from the Internet, but all the latest features you would expect of a modern mobile phone, so TV on mobile is in fact, only a feature and not a necessity. What seemed revolutionary only a few years is no longer seen to be.
Analogue TV Is History...
With the soon to be redundant analogue television ending it's days soon, it will be essential for everyone to have a digital set top box. Digital takeover of television is just around the corner in the UK, when analogue will be switched off forever. Then, the only options will be Freeview, subscription channels and/or online viewing.
For some time now, it has been possible to watch some live events on the Internet news channels. This is another way that Internet televison can be viewed, but only pre-determined events can be viewed.
Should Licensing Be Abolished To Watch TV?
The cost of watching TV is increasing as is the number of channels. It is inevitable that one day the BBC licensing authorities will need to review the fact that they charge for the privilege of watching, both live TV and from the online. There are ongoing campaigns for the BBC to scrap the television licence in favour of other types of funding.
This law was created when there were only about four main channels. Most of these are self-funding via advertising. The BBC does not use advertising but because it is government sponsored has a law in place to ensure people pay for a broadcasting licence.
The problem with the BBC approach is that people are already paying subscription fees to watch online or offline TV with Sky, Virgin and other companies. On top of that there is the licence fee. Perhaps it's time for change on the issue of licensing, but meanwhile there are an ever increasing number of ways to watch television from all over the world online, including free downloads.
You might also like...