The Facebook Craze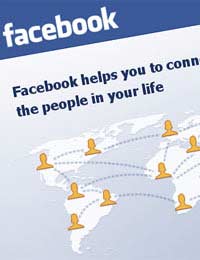 The term "Social Networking" has evolved on the internet, from basic chat in the early days of the web to today's proliferation of websites containing numerous forms of communication and methods of displaying video, audio, images, chat, forums and blogging.
Facebook is actually a fairly young website, having only launched in 2004. the website belongs to Facebook Inc. Facebook allows its vast army of users to interact via city, workplace, school or region and therefore you can tailor your experience.
Facebook offers the ability to build up a network of friends and each member can update their personal profile so that other users can view the information.
Facebook Came from Real Paper Books
The "Facebook" name came from the paper version of a facebook which shows members of the campus community that some US colleges and prep schools provide to incoming students, and college staff in order to learn about other people on the campus.
A student by the name of Mark Zuckerberg founded the concept whilst he was a student at Harvard. Initially, membership of the site was limited to the students solely within Harvard, but this expanded gradually to other colleges in the Ivy League, which is a collection of colleges and academic institutions in the US competing against each other in various sports.
The current online presence of Facebook consists of 120 million active users worldwide. Not all countries approve of Facebook. For example it has been banned on and off in countries like Syria and Iran.
Facebook Can be a Distraction
Many places of work have banned it to increase productivity. One of the problems associated with facebook has been personal privacy. To further increase the list of problems the site has come up against in the past, the author Zuckerberg's former classmates have made claims that Facebook has stolen their intellectual property.
The motto of Facebook on its front page is that it "helps you connect and share with the people in your life." This is certainly true and it has a number of ways in which this can be achieved. For instance there is the standard messaging amongst members but there are also games, photo sharing, videos, groups and events.
How to Obtain Friends Quickly
One of the techniques used to gather friends quickly using the Facebook software is by searching through all your email contacts to see who is a member of the site. Once it has found people it automatically asks these people if they wish to join your friends list. Once this has been completed the people concerned may forget they have aver mailed you, in which case they will ask who you are, or will simply add you to their list of friends.
Facebook and Marketing
Facebook is also used for marketing purposes. For instance if you blog frequently on the site and inform your friends about your services you are in fact advertising and it is free. If you are a writer one of the techniques used is to add your articles to your profile, where everyone can see what you have written. It's a great way of drumming up interest. However, Facebook is not the only social networking site which offers this as you can now add articles to several social networking sites at the same time.
Facebook seems to be the leading social networking site at the moment, but it is likely that Bebo and MySpace will have something to say about that.
You might also like...