All About Bebo and Myspace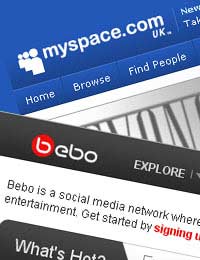 Social Networking is now one of the latest "things to do" on the web. People, young and old are now into this form of networking. One of the most popular site is "Facebook", but the challenge for supremacy is taking place alongside Bebo and MySpace.
Bebo was formed one year after Facebook, in 2005 by Michael and Xochi Birch. The word Bebo means blog early, blog often. It is used in many countries, including Canada, the US, United Kingdom, New Zealand, Australia and Ireland.
New versions are currently underway in Poland, and there are plans for French and German versions of the site. Bebo was relaunched in 2005 and it was bought by AOL in March 2008.
Bebo Features
Bebo Music
Bebo Authors
Bebo Groups
Bebo Mobile
Bebo Music allows artists and bands to store their profiles along with any tour dates they may have. One way of advertising their music is by uploading a to their profile so it can be played on the Bebo media player. All profiles allow a regular blog to be kept.
Budding authors can set up an author's profile and have books reviewed within the Bebo authors group. Then there is general interest Bebo groups, provided to other groups of Bebo account holders to form groups according to a common purpose or interest. Bebo is now available via mobile and was launched on O2 Ireland and Orange UK networks in October 2007.
MySpace
Like Bebo, MySpace allows users to set up individual profiles. Having founded in 2003 MySpace is actually older than both Facebook and Bebo. In MySpace each profile has two "blurbs" and these are named "About Me" and "Who I'd Like To Meet." both aspects of these blurbs can be customised via HTML but JavaScript is not allowed.
Each profile in MySpace contains an interest section and member's details. Each member's details contain a Status and a Zodiac but these only show up in their profile if they have been filled in. Each member's blog has three key fields which can be populated for content, emotion, and media. Once friends have been added to their profile in what is called the users friends space, comments can be left by them. If the member does not like any of the comments they can remove them if they wish.
MySpace is popular among young people, so much so that presidential candidates have set up profiles on MySpace with the intention of capturing young voters votes. Like Bebo my space also has a number of features associated with membership and a list of features is shown below:
MySpaceIM
MySpaceTV
Applications
MySpace News
MySpace Classifieds
MySpace Karaoke
MySpace Polls
MySpace Forums
MySpace is owned indirectly by News Corporation (under the name of Fox Interactive Media) and has about 300 employees. In 2006 it was the most popular social networking site in the US but had been overtaken by Facebook in April 2008. Founded in 2003 MySpace has it's headquarters in Beverly Hills, California.
You might also like...