The Internet on Mobile Phones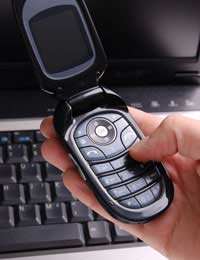 Technology has moved quickly in cyberspace and there are numerous ways web pages can be viewed and Mobile phones are no exception. It is no longer necessary to rely totally on a computer to view pages from the Internet. Handheld PCs have been around for some time, but mobile phones are swiftly taking over this role as they combine telephony with the ability to use the Internet.
The iPhone from Apple, is one of the latest developments in mobile technology, and allows you to view the full web pages via a touchscreen. Pages can be viewed in any aspect, meaning that no matter which way you will hold the device the webpage is viewable normally.
Mobile Web Pages v PC Web Pages.
Although the ability to view web pages on mobiles has been around for a few years the experience was until recently, limited. Mobiles can only view pages specially designed for mobile type devices. This situation is improving, and web pages on mobile devices are now becoming almost as good as web pages shown on a PC. A few years ago some web pages were not viewable on a mobile device, especially web pages with interactive content and flash videos.
Mobile Internet Is Convenient.
The use of mobile phones to view the web has made working life easier, for those professionals and people who need to browse the Internet as part of their everyday work. It's not just about work though, as mobile Internet offers a variety of entertainment features, and you can check the news on the move, such as the latest football scores. One of the most useful functions is that of email, which can be checked on mobile phones or special "Blackberry" Internet devices. Email is the most popular mobile phone application, as it is easy to check and respond on the move.
The use of mobile phones to access the Internet has been on the increase for the last two or three years. The power and flexibility of the mobile Internet access cannot be underestimated and there are a variety of useful applications for mobile phone users. For instance "Google maps can be used on a mobile phone to locate and map out a route between two points. The mobile version works exactly the same on a mobile as it goes on a PC, but it's scaled down for mobile use.
The mobile phone companies now offer a variety of packages and are in competition with one another to increase their market share. Some will offer free mobile access in exchange for a certain tariff, while others may offer free downloads for mobile phones from the Internet. Mobile Internet has become part of the "marketing mix".
How Many People Use Internet On Their Mobile?
However, at the moment the mobile web is still not used as much as would be expected. Approximately only 25% of British mobile users will access the Internet at least once a month using their mobile. In the UK, the "web on mobile" still has plenty of scope to grow. By contrast in India mobile phones have eclipsed the growth of the PC market. As a result the majority of mobile users in India, two hundred million people to be precise use their mobiles to access the Internet in preference to PCs.
Trends indicate that in the UK at least, using the mobile to access the web has not yet become a habit, but its power and flexibility is there for all to see.
You might also like...