Mobile Broadband Explained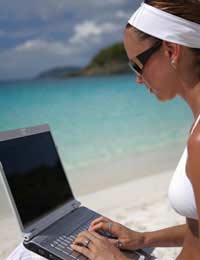 Broadband on the move is increasing in popularity. This was not thought of as possible only a few years ago, but it is here and the mobile phone companies are all competing for a slice of market share.
Access the Internet, Anywhere
No longer do you need to stay at home to use broadband, either via your computer wires or by using "wifi". All you need it a portable modem you just plug in to your laptop. These come mainly in two shapes and sizes. The most recent version comes in the form of a usb stick, which is similar to a flash drive. The other type of modem is like a mobile phone without all the buttons and switches. A USB lead then attaches this to your laptop, so it "hangs off" your laptop and sometimes gets in the way. The flash drive lookalike modem seems to be easier to use and does not get in the way and some laptops have "3G" built in so you don't even need to carry a separate modem.
How it Works
So how does mobile broadband work? Well, unlike wifi used in the home wirelessly, and "wifi hotspots" which provide wireless internet in certain locations, such as train stations, hotels, public places etc mobile broadband is available anywhere (as long as there is a signal), anytime. It utilises the mobile phone networks, therefore you have to sign up with a mobile phone provider. As with mobile phones, the signal strength can vary depending on which network is the closest in terms of physical aerials in the immediate vicinity.
Mobile broadband usually utilises HSDPSA technologies (high-speed downlink packet access), but it can also access a 3G type of network or GPRS. HDSPSA is generally the fastest.
Until recent years the only way to access the internet remotely was via the connection of your mobile phone using a data modem. This achieved the task of providing internet on the move but it was slow, at best. Some people still use this method of accessing the internet in the absence of a broadband modem, but it is slower and can end up costing much more than mobile broadband. As the charges are based on the amount of content downloaded from the internet, it can really ramp up the phone bill.
Watch Those Download Limits!
According to some of the advertisements for mobile broadband, they provide "super fast broadband for only £7.00 per month!" Well the speed is sometimes debatable but it is definitely convenient to be able to use speeds which are comparable to broadband, if in fact, they do not quite match up to the real thing. Usually, you pay for the service on a monthly tariff and this is added to your mobile phone bill. All you would need to do is to subscribe to the network of your choice. There are limits on the content downloads you pay for from mobile broadband, but this is still far cheaper than using a mobile phone and data modem solely for access. You just need to ensure you stay within your limits to avoid a massive bill.
Mobile broadband has been provided to meet the needs of mainly business, but residential users also. A few years ago anyone was lucky to have broadband at home only. This has all changed and anyone can now have access to the internet wherever they happen to be in the world.
You might also like...