Texting Mobiles from The Net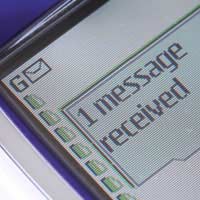 It's likely that in this day and age of the mobile phone, most of you could not even imagine being without your little texting device. In fact, it's a fair bet that some of our younger readers cannot imagine life without a mobile! Basically, if you are over 30 you may well have forgotten what it was like without a mobile and being able to text. You must remember when you had to use a land based phone (complete with wire) or send a letter or leave a note! Texting was unheard of back then!
The most commonly used method of texting is via a mobile phone, but did you know you can also send and receive text messages from the internet? Internet technology has found a way to access the mobile phone networks and send texts directly from a web page. Most web pages offering this service will also tell you how many characters you have left to send in a specific message and you can see at a glance the list of messages you have sent or received, just as you would on a mobile phone.
Web Texting Services
Some of these services are free, but others have a small charge for texting or will allow you to send free texts up to specific number per day, such as 3 or 5 before they start to charge or prevent you from sending any further texts. Most mobile phone providers such as Orange, T-Mobile, O2 (formerly Genie), Vodafone etc provide this service. It is usually provided as a service when you log into your mobile phone account on the providers web page, but some offer the service without logging in. Genie was one of the first mobile phone providers to offer the texting service from the internet.
Watch the Addiction and Don't Cheat!
Text messaging can be addictive, and some people spend all day texting their friends, family and workmates. One of the most useful functions of text is in industry, when text messages are automatically sent to employees automatically if there is a problem with a machine, computer operations, or some other process. It has often been used to send an emergency message when someone is in danger or to communicate secretively. It is well known that many extra-marital affairs start out by the use of text messaging!
How Internet to SMS Works
So how does internet texting, or web based SMS (Short Message Service) work? Well, the SMS service or gateway, as it is known is already connected to the World Wide Web. When sending a message from a web page, the information would be transmitted to the Short Message Service Centre (SMSC) of the relevant SMS service provider, using the SMS gateway. A "gateway" is, as you might expect a method of entering a specific transport technology, using all the rules and protocols relevant to a particular technology. A number of different protocols can be used to transport the message from source to destination, and the method used depends to some extent on the types and volumes of the messages being transmitted.
The web is just one more place you can send text messages from. Here are a few uses for text messaging generally:
Home Automation Systems
Software To Control Mobile Phones With A Computer
Skype To SMS
Email To SMS
As you can see, the applications for texting are not limited to casual messaging and texting from the internet. It has far more uses than most of us realise.
You might also like...