Privacy: Who is Spying on You?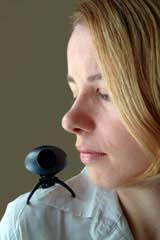 A great number of Internet users are still sceptical about the safety of their computer privacy on the Internet.
This is especially true where credit card information is required in order to subscribe to services or purchase products from the web. It is quite frequently commented upon that most people will not provide their credit card information at any cost, preferring to pay for online services by cheque, over the telephone or not at all.
Is There Any Protection Against Privacy Invaders?
Is this view justified with the presence of today's high security websites and secure credit card processing services? The tug-of-war over a citizen's private data and what websites can do with it is ongoing. The UK Data Protection Act of 1998 helps to alleviate some of the concerns of computer privacy as it provides a framework to balance the need of storing private data against the individual's rights in providing the information. It is by no means perfect but it does provide a degree of security against fraudsters or other crime.
Privacy has a number of levels on the Internet and the extent to which protection is required depends on the surfing habits of the person. Some people do not need to worry about privacy in any depth when they are only using the web on a casual basis.
The World Wide Web has created new concerns around privacy, such as IP addresses and non-personally-identifiable profiling. Some people require much stronger levels of privacy than a casual user.
The people who require stronger privacy will probably opt for complete anonymity on the web with the result that third parties are unable to link the users activities to anything specific or identifiable. The downside of this is that the user may not be able to use certain websites which insist on cookie information being set.
Who Are The Biggest Culprits?
So what are the biggest threats to privacy? Surprisingly research has shown that the biggest threats are not from hackers and virus crime, although they cannot be ruled out. The biggest threats to privacy are from legitimate on-line websites and advertising networks and others who create details profiles of people and their activities. They are also responsible for the majority of "spyware" which has been designed to analyse and guess your Internet activities. As a consequence they can then spam you in your email and tailor your browsing activities to suit the kinds of shopping sites you would normally visit.
These companies tend to put everyone into "pigeon holes" and the process is called "profiling". This activity has been going on in the offline world for years, even before the Internet became a viral marketing concept.
After all, marketers need to know what to sell to us and the products we are all craving for (well some of us). That's all very well but perhaps on the web our privacy has been invaded more than is necessary and it seems that the slightest hint of a sale for a product or service is leaped upon with vigour. This is very evident when you buy a product from a website. How many times have you been presented with the "You might also like" prompt to buy related products when you make a purchase on a shopping website?
We Are All A Profile Record!
The difference between Internet profiling and offline processing is quite simple; records can be created about you on the Internet with ease, but offline this is not so easy to ascertain.
We may not like it but it's a fact of life that on the Internet we are all being "profiled" in some way. The only way round this is not to surf or protect your PC to the hilt. It's just typical of our society that this is how the Internet is being used for marketing purposes. Perhaps the answer is more regulation or control over how the Internet operates.
You might also like...