Joke Sites to Lift Your Day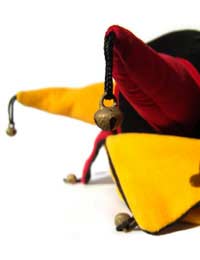 Joke websites are an aspect of the internet that we all should enjoy, especially when we are feeling a little down in the dumps. There are literary hundreds of these websites and you can even subscribe to a daily joke for retrieval by email.
Yes, at the end of the day you can't beat having a good laugh. Here are a few taster jokes and sayings from some sites we discovered :
Police Station toilet stolen....Cops have nothing to go on.
Don't get married. Find a woman you hate and buy her a house. It's a lot easier on you.
Hell hath no fury like the lawyer of a woman scorned.Always remember you're unique, just like everyone else.My wife's left for the West Indies -Jamaica? -No, she went of her own accord.
My wife's gone to the botanical gardens.-Kew? -Yes, it was rather busy.
Q. How many aerobics instructors are required to change a light bulb? A. Four!...Three!...Two!...One!
Most joke sites categories their jokes so you can find your favourite topics. Here is a review of some of the most popular joke sites on the Internet:
The Joke File.
This site appears high in the search engine rankings, when you type "joke sites" on the UK Google. It is simply a list of joke categories with links to other sites, so there is plenty of fun to be had.
Top Laughs .COM
This site allows you to submit your own jokes to share. It categorises the jokes and there are even some free games to play.
Joke Scratch Cards .COM
If you want to play a trick on someone this site offers something different. For 50p + post and packing you can receive a real scratch card. It's quite naughty though because the cards obviously win, and win huge at that! Up to £50,000 prizes are guaranteed to be revealed… until they read the small print that is! If you are feeling really nasty or vengeful about something you could try their joke parking tickets. They have merchandise for every prospective prankster.
Clean Jokes .COM
If you prefer clean jokes and fun, rather than the "sick" and "rude" categories you find on some sites you could try this site. It goes to show that humour can be clean and still not have any racist or other connotations and is just good fun.
Political Humour About .COM
This site has a serious slant to it, as it considers what is happening in the political world at the moment, such as the US presidential elections at the moment. It is quite funny if you take an interest in these matters, and there are some interesting pictures and comments.
Love To Know. COM/Top10/Jokes .html
Some sites are simply directories to a list of popular joke sites and provide all the links you need. This is an example of a page of links to joke sites.
Textmefree .COM/sms-jokes .html
If you like to send jokes via SMS as they are short and sweet, then you could try this page, which lists short jokes you can send by text message. This site is okay as long as you can avoid the adverts!
Finally, you will know when you are a computer geek when ...
When floppy drive applies more to your love life, and hard drive to your machines.
You might also like...