The Rick Astley Prank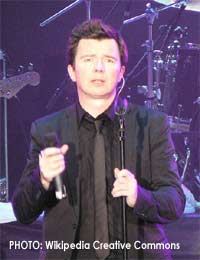 When Rick Astley recorded "Never Gone Give You Up" in 1987, little did he know that the song and the video he recorded would become an Internet phenomenon a few years later. It is used in a way that is akin to an April fool's joke and in fact has been used as an April fool's joke on more than one occasion.
It is used to fool "victims" into thinking that the web link they are about to click on is related to a recently discussed topic, but instead of what they expect the Rick Astley video and song appear. When this happens it is said that the victim has been "Rickrolled", and the link can be hidden so that unsuspecting parties will not know where it has come from.
What's An Internet Meme?
This kind of joke is called an "Internet meme", which is a new phrase arising as a result of new words which are frequently appearing as a result of the World Wide Web. It is thought that the idea originated from an earlier prank called "Duckrolling", and subsequently the victim would have been "Duckrolled". The earlier prank involved presenting the user with an edited picture of a duck with wheels. Online jokes and links are becoming widespread, but "Rickrolling" is one of the most popular.
Don't Click On That Link!
The first "Rickrolling" event ever taking place was on video game board, "4chan". A link was provided which was claimed to be a mirror site for the first trailer of Grand Theft Auto IV, but in fact it was a link to the Rick Astley video. Soon after "Rickrolling" became a popular pastime on the Internet, and it has appeared on many victims computer screens. It has now become such a popular pastime that it has amassed coverage in the mainstream media, and a survey undertaken in April 2008 found that at least 18 million American adults had been "Rickrolled".
In addition to the lighter side of the prank it has also been used to demonstrate lapses of security. For instance Dan Kaminsky a security expert used the prank to show that both Facebook and PayPal could be breached by playing the video on their sites. It has been used in a number of places on the web and also in places you would not expect, such as in a protest against the Church of Scientology. In February 2008 the song was played through boomboxes and the protestors shouted "Never gonna let you down!", so, in effect it was the equivalent of a live "Rickrolling".
Rick Astley's View
As for the man himself, Rick Astley, he said that he found the "Rickrolling" of The Church of Scientology to be hilarious. He also made it clear that he would not be taking advantage of the situation by recording a new version of the song or providing a remix of his own, but he say that he would be happy to have other artists remix it. He is fine with the phenomenon as he finds it "bizarre and funny", but he is concerned about his daughter becoming embarrassed.
It just goes to show that the Internet is a place for education, work, entertainment and unusual pranks! So take care when you are online as you could be "Rickrolled" at any moment.
You might also like...